Consider this a public safety message because Yellowstone National Park is a threat to all Americans. Here are five very real reasons why you should never go.
A good 25 years ago, I scrubbed toilets and made beds in America's first national park. For two summers, I lived in a dorm with a musty roommate, ate shitty food, backpacked every weekend, and had the time of my life.
In August 2023, I returned with my family, and the park itself was generally the same. The mushroom-carpeted, moldy cabins that I cleaned were still there. The crusty, retired campground attendants were still angry. And Old Faithful still blew its load every 70-80 minutes.
And yet something had changed. The tourons were on another level compared to those I encountered decades ago. For those who don't know, the touron is a special kind of beast—half tourist, all moron. I'm not the only one to notice this. A recent Washington Post article pointed out the increasing boldness of tourists in the park, which harkens back to the old days when you could feed bears from your Ford. As I watched humanity disrespect this national treasure at every thermal feature, I realized the solution. Just don't go. It's insanely unsafe, and you're probably going to die. If that's not good enough for you, here are a handful of other reasons you should just go to Florida.
It's Going to Explode
Let's start with the obvious. Yellowstone is a giant Supervolcano. I didn't add the "super" for emphasis; that's the scientific term. The park actually sits in the Yellowstone caldera that formed during the last eruption just 640,000 years ago. All those cool geysers are caused by groundwater that's heated by hot magma just below the surface.
The volcanic activity in and around Yellowstone is caused by a "hotspot," similar to what created the Hawaiian Islands. Like the islands, the park is constantly moving, shifting, and growing, thanks to magma wanting to ooze out like a week-old pimple. The area has thousands of earthquakes every year–some are minor while others, like the 7.5 magnitude earthquake of 1959 that killed 28 people, are immense.
Recent articles have pointed out that studies suggest the magma is more liquid than previously thought, which, if that continues to increase, could mean the area is ripe for an eruption. But the consensus among those who study this kind of thing is that an eruption is likely thousands of years off. Then again, a couple thousand years on the geologic scale is just a wink in time. To be safe, you'll be better off at Busch Gardens.
It's Full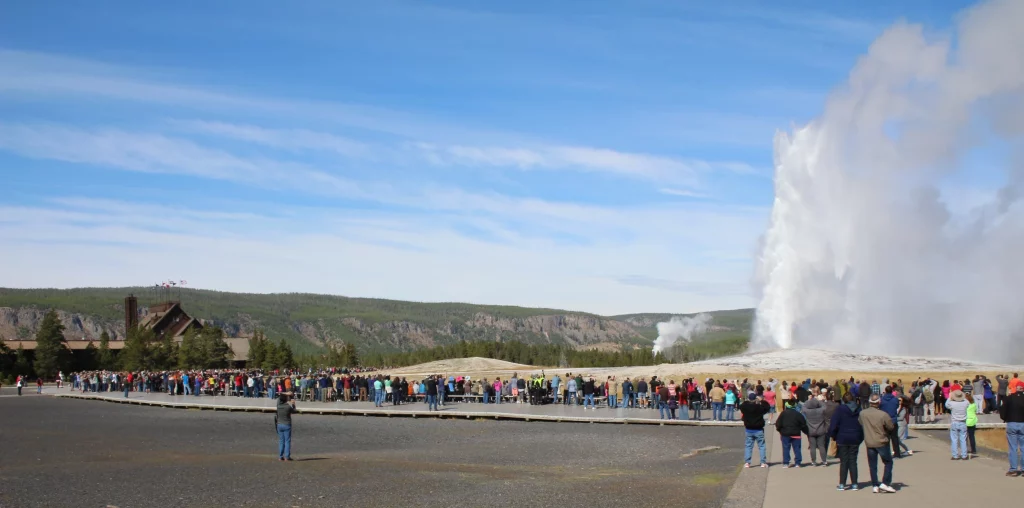 Seriously. All national parks are full. You need a reservation just to drive through Glacier. You get to ride the bus in Zion (really not a bad idea). And Yellowstone's parking lots, entrances, boardwalks, hotels, and even campsites are booked.
I got our reservation to sleep on the ground in August back in May. And even then, I was limited to one campground at Madison. This wasn't a huge deal. We rinsed off in the Firehole River (no showers at Madison), and we brought our own cooking gear. The bummer happened when it rained. Apparently, Yellowstone is so full that water can't even soak into the ground where it belongs. You know what's not full? Alaska.
Visitors Are Special Today
I know I'm special; my momma told me so. But Yellowstone casts a spell upon visitors the moment they pass over the park boundary, creating a special breed of short-bus touron.
Rules do not apply to the touron. Thermal features are off-limits to everyone but them. Bison actually do want a hug. Fences at the top of 300-foot waterfalls are meant to be hopped for a photo-op. As you can see from the photo, this touron was begging to make an appearance on #touronsofyellowstone. That's right, there's a very entertaining, albeit disturbing, Instagram site devoted solely to the touron.
No one is entirely certain what causes this special kind of stupid, but scientists are still studying the effects of sulphur and thermal vapors on the human brain. Some speculate that when the fumes enter the nasal passages, the ever-present microbes living in the geysers occupy the brain's frontal lobe, inhibiting any common sense or impulse control. One can only hope that this is actually the case. Otherwise, it's just humans being assholes.
It's not Family-friendly
If you don't like your kids, take them to Yellowstone. Where else can you hold their hand the moment they break through the crust of the earth just to be boiled alive like some sort of Mortal Kombat fatality? Geysers don't care. They will eat your children.
There's the obvious threat of wildlife attacking you at every bend in the trail. Just before we arrived, managers closed off part of a nearby trail because a grizzly killed a jogger and then broke into a house. Such behavior is a death sentence to the bear. I mean, you don't want a bear to die just because it killed you.
Finally, there is absolutely nothing in the park to entertain your kids. Cell service is spotty at best. The rooms don't have televisions, and all the puzzles in the lobby of Lake Hotel are missing pieces. I suppose you could go hiking, but with all the animals and the thermal features, good luck getting home in one piece.
The Locals Don't Want You There
At my employee orientation a long time ago, they made us watch a video on a VCR (be kind, please rewind). It was a grainy video warning us not to approach the wildlife. A touron had pissed off a bison somehow and was trying to hide behind a pine tree. They were face-to-face with the tree in between. The touron juked left, and the bison went right. It launched the touron into the tree, and I counted at least two full somersaults. A solid 8, with deductions for landing on their head.
Today, there are thousands of Instagram clips of tourons getting gored, mauled, stuck, bit, jabbed, and stomped. Do you ever get the feeling that the animals are tired of our shit? Hell, I'm tired of it, and I don't live there anymore.
And how about the other locals, the employees? When I visited in August, I felt a bit of unease because I knew how they felt about the hoards of visitors invading their park. I was now a tourist. When I worked there, I despised the touron—and they were all tourons. Some days they wanted to know how much a mountain weighed. The next day, and this is my favorite, they wanted to know at what elevation the deer turned into elk. You can't make this stuff up.
So please, the next time you think you want to go to Yellowstone, just be honest with yourself. Do you really want to spend $400/night on a hotel room with roaches the size of your thumb just so you can see a little steam? Do you want to spend $35 for two boiled hamburgers and a can of DEET? No, you don't. Remember, Yellowstone sucks. Please tell your friends.